As a sales person, the relationship with your manager can bring success and disappointment, joy and frustration. It affects our lives enormously, both on and off the (sales) pitch.
According to Gallup, at least 50% of us make some change to our working life as a direct result of how we get on with our sales manager. That's hardly a huge statistic when we think of the demands our bosses place on us. If you consider the influence they have on our pay and prospects, the intense work schedules they give us, the difficult targets they set for us. Their presence in our lives is pretty powerful and it's worth spending time trying to ensure that, from our side at least, our relationship with our boss is as good as it can be.
Managerial Impact On Our Sales Life
In the majority of cases, the relationship with our manager has a positive impact on our sales life. They act as a colleague and a mentor and help us navigate our way along our career course and usually have a certain type of sales leadership. With regular exposure to our work habits, our manager can be the only person equipped to provide feedback and direction. A good boss affects our workplace happiness, making it exciting and fun and helping us with sales motivation, and this affects our mental and physical well-being. The stakes don't get much higher than that.
They're the good guys. But, there's no shortage of managers out there who can make life difficult. They can micromanage us in a way that makes us feel worthless or put exorbitant demands on us without any consideration for what we might have going on at home. They may dictate rather than coach, lack the skills or the vision to help or to inspire. Their expectations of us may be impossible to fathom. A difficult manager can make us dread the working day.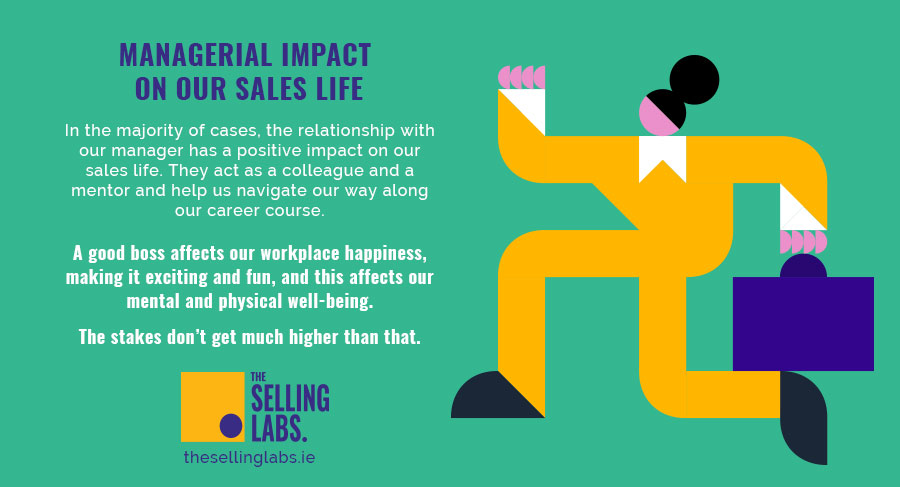 Impact of Managers Personality
And if that's not bad enough, there is 'personality' to think about too. Working relationships are easier when people get along with each other and it can be particularly hard when that person happens to be the boss. It's uncomfortable trying to influence someone you don't really like, and it's harder still to convince someone who doesn't share the same values as you.
Improve The Relationship with Your Manager
The good news is that with a bit of careful thought, in the same way you can improve your sales methodology, you can improve a difficult relationship with your manager with lasting results.
Here are some suggestions:
Do your research. What's her style, personal characteristics and habits? What's going on in his life? How does this affect the job she is doing? Knowing more about what makes them tick might help you to see where they are coming from a little more clearly. It might also provide an opportunity for you to see yourself in their light and, if needs be, to adjust accordingly.
Communicate the expectations of your role – get aligned and share ideas about the value you can bring to the organisation.
Be open and honest when things don't go right. Invite post mortems after important meetings.
Share your observations about the team with her. Think about the reporting line upwards in the same way as you do the reporting line downwards: if you can make your boss look good to his superiors, he may well do the same for you.
Ask for feedback and act on it. With constructive observations from your boss, it's easier for you to understand his expectations of you.
Keep a running document with actions, progress and key sales metrics.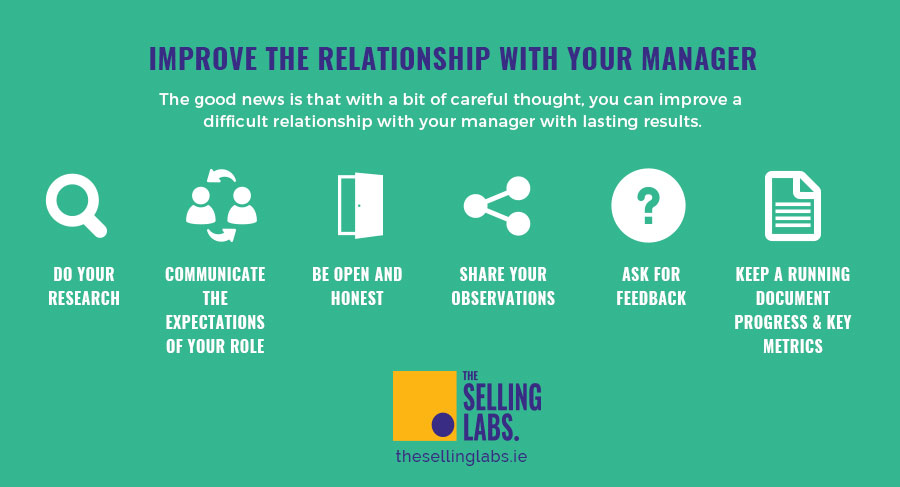 Changing The Relationship with your Sales Manager – An Example
An example. Siobhan was frustrated. She had been in the bank for many years, her performance ratings were always strong yet her peers were often promoted ahead of her. She suspected her old boss was standing in the way but she never approached him on the subject. "What am I doing wrong?" she finally asked her new manager after he'd left the company. After shadowing her in a couple of meetings it was clear to the new manager that Siobhan was not cutting through. She knew her stuff operationally but her reserve in groups, particularly when senior people were present, was preventing her from contributing and getting noticed. Her manager gave her the feedback and accompanied it with some suggestions and soon afterwards, Siobhan got the promotion she wanted – her only regret being that she hadn't approached her old boss on the matter years before.
Of course, if none of the above strategies works, it might be time to get real and to recognise that no matter how hard you try, it's not going to work out. Sometimes you just have to move on so it's better to try and spot that moment before you get stale.
Sales Consultancy
In conclusion, the relationship with your sales manager is an important one and may be having more of an impact on your professional progression than you think. If you think your relationship with your sales manager needs some work then avail of our sales consultancy and see how we can help you progress by contacting us today to learn about our services.
Don't Miss Out
On Expert Sales Tips
Get regular updates delivered straight to your inbox with expert sales tips for tech & SaaS companies. Enter your email below and start to increase your sales now.