Vivien Koh took the courageous step to leave the corporate life to launch her own startup, VK Transformation, in a highly competitive sector. We share her tips and tricks on running her digital marketing consultancy in the Asia Pacific region. Enjoy!
Q.) Female business owners receive less than half the level of investments of their male counterparts. Result? Too few female CEOs. How have you bucked this trend?
A.) Vivien Koh: 6 years ago I chose to take the 'road less travelled' by taking the leap of faith from corporate life into my first startup. I was somewhat ignorant of the odds stacked against me with a startup failure rate of 90% and with only 5% of entrepreneurs in tech being women. They say "Ignorance is a Bliss"! All I could think about was that when I looked back at my career as an older person I would be able to say that I had pursued and experienced the highs and lows of launching and running my own startup and that would make me feel like I've accomplished something.
In the past I defined success by the goals I accomplished and the promotions I secured. Now, at this stage of my life, my personal definition of success at work is more focused on transforming others' lives and businesses, helping them to secure goals and recognition rather than seeking approval and recognition from others.
With this philosophy in mind, I developed a passion since becoming an entrepreneur for helping startups and small businesses transform their business ideas into reality. In addition, I've always been passionate about mentoring talented young people and helping them to uncover their potential. And I get a lot of satisfaction helping companies transform their business models from business models to businesses that target the end consumer. This can be a tough transition for businesses as the latter is very competitive and it's broad target market can cause entrepreneurs to lose focus.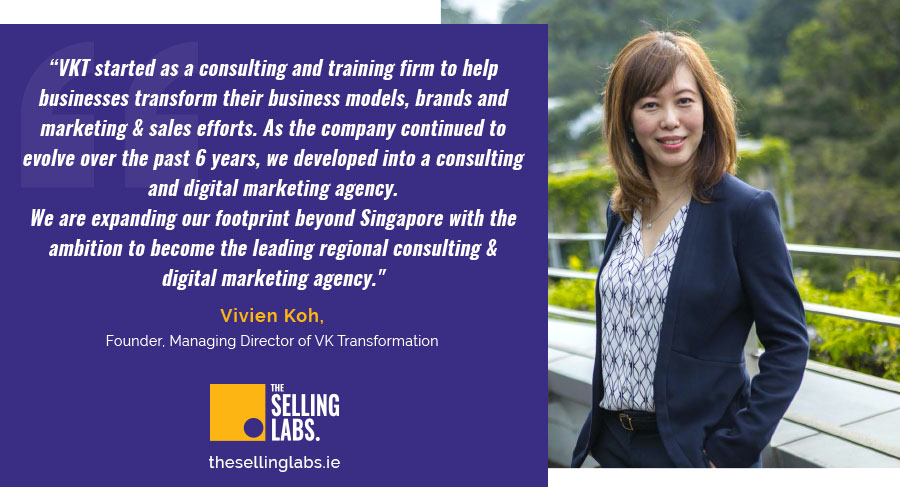 Tell us about VK Transformation!
In Asia Pacific it's all about growth. Companies operating in this region are usually the fastest-growing regions in global companies and that was certainly my experience when I ran this region for Google as Head of New Business Sales. Looking back, the most important metric for Google was revenue growth. However, the most important metric for me was helping the 11,000 companies I supported – startups, SMEs and large enterprises – transition from traditional marketing choices like television and print to digital, or to online as we referred to it. This was the catalyst for me taking the leap of faith and kick-starting VK Transformation (VKT).
VKT started as a consulting and training firm to help businesses transform their business models, brands and marketing & sales efforts. As the company continued to evolve over the past 6 years, we developed into a consulting and digital marketing agency. We are expanding our footprint beyond Singapore with the ambition to become the leading regional consulting & digital marketing agency.
When I look back at my time working in global companies and my focus on helping small businesses to flourish I get a lot of personal satisfaction doing this directly for businesses in my region, by gathering all the lessons I learned and witnessed my clients learning. Now that is personal impact!
What makes VKT different? 
We call them our 'superpowers' and here are the top five:
Be Performance Driven: we have a team of highly skilled in-house certified Google Marketing specialists. They are ESG Certified & former Googlers
We Focus on the Broader Strategy As Well As Digital Marketing: we provide results for clients from our deep experience in consulting, digital marketing and people development, enabling us to understand key business drivers & desired outcomes.
Hold A Diverse Portfolio: we believe in supporting a range of different clients from different sectors, large and small. This diversity enables us to deliver creative solutions that have helped transform the businesses of over 120 B2B & B2C clients
We Support Clients To Get Financing: we are adept at financial applications and have a high success rate at securing funding from complex, tricky processes.
We Are Agile: our team of individuals move fast, can handle change and complexity and have a customer-centric mindset. We thrive in innovative problem-solving.
Describe a typical day in your working life
Like the rest of the world, we are adhering to the government's safe distancing restrictions. Singapore is not different in that respect. Typically, my day starts at 7:30 am with the first half of the day catching up with the team and messages exchanges through emails, Whatsapp, telegram followed by client meetings and then holding workshops in the evenings. I share the working space at home with my husband and our sons and my Mother lives with us too so it's a busy, frantic household.
How would you describe your leadership style?
At this juncture of my career, I challenge myself to adopt a transformational leadership style so that my team and I can weather the most challenging scenarios and function as a single team with a common objective in mind, especially during these uncertain times. That being said, I sometimes have to adopt a more authoritative kind of leadership style to inspire key stakeholders to take action!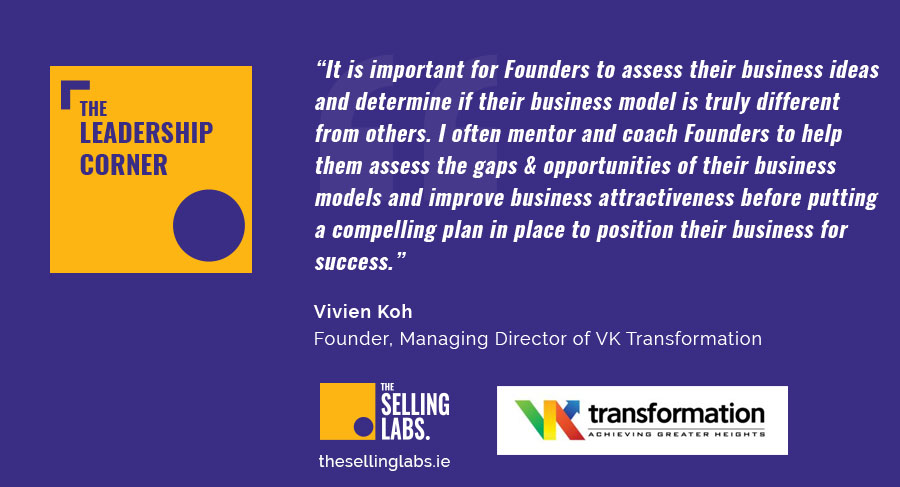 What advice would you have for Founders launching a new business today?
In this fast-moving and competitive business environment, I think it is important for Founders to assess their business ideas and determine if their business model is truly different from others. I often mentor and coach Founders to help them assess the gaps & opportunities of their business models and improve business attractiveness before putting a compelling plan in place to position their business for success. So I spend a lot of time pushing Founders to find their point of uniqueness, their value proposition.
What are your top tips for startups trying to generate revenue?
Assuming the startup has already established a compelling business idea or MVP, I would suggest for the startup founders to:
Lean on your network. Ask yourself each week 'Am I networking enough?' and set networking targets regularly.
Hire the right people. If you're not able to attract a co-founder, think about which role would help your business get off the ground and hire the best talent you can find.
Look after yourself to avoid burnout. Take breaks, create rituals, turn your phone off, put your feet up.
How have you juggled different priorities in your life? 
As a mother of twin boys, I always thought that I would have to choose between work and family. And when life got in the way of work, for example when the kids were diagnosed with asthma and we found ourselves in and out of hospital, it was hard to juggle both. But now Matthew and Samuel are 22 years old and pursuing their respective passions in Economics & Computer Science at University. Looking back, I am lucky to have had a supportive hubby of 28 years, and that, as well as my ability to organise my working day and prioritise, have allowed me to proudly survive the twin challenges of work and family!
Looking back on my time as a young working mother, my desire to have an impact and make a difference was as powerful as wanting to be a great mom. It was tough during the early days; the necessity to juggle motherhood and work forced me to be more structured and more decisive and these skills were especially important when I transitioned from the corporate world to entrepreneurship 6 years ago.
Looking back, I would say that juggling between home/twins and work, and taking the leap from corporate to entrepreneur, were my two career highlights.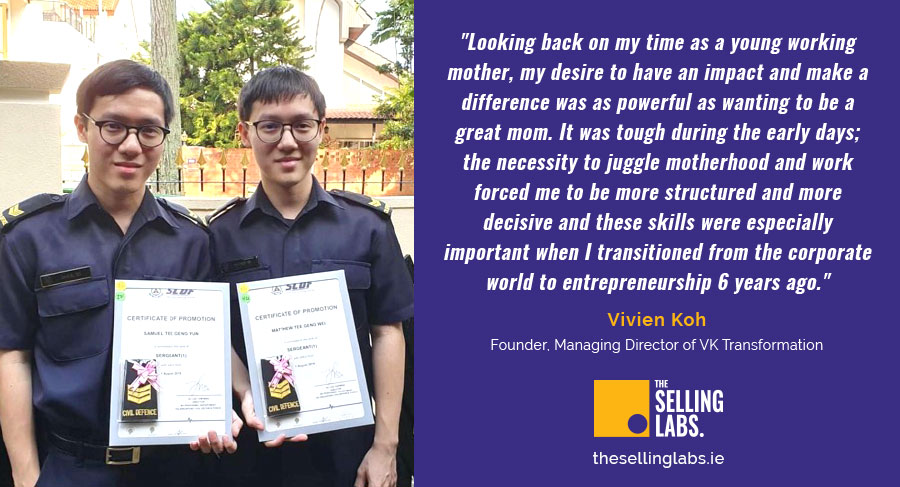 Finally, can you share with us the great leaders have you worked with during your career? Any sponsors or mentors of note?
By far, this question is the toughest to respond to! Buddy Griffin was my VP of Operations at Dell Asia Pacific while I was at the early stage of my career in supply chain management. Despite being extremely busy with Dell's startup in Asia, Buddy always carved out time to support me in my career development. He gave me the courage to speak up and he helped me put in place a new career in Sales. I still look back fondly on those coffee chats with Buddy!
When I joined Google I had to transition from a traditional tech company to the fast-growing icon that was Google, with its strong brand and culture. I had to undergo a paradigm shift to adapt to the new working culture and practice. Natalie Bagnall was my peer responsible for EMEA region. Despite her busy schedule managing a large business, she took time off to mentor and share with me her change management experiences which helped me accelerate my integration into Google. She was never too busy to support others. Thank you, Natalie for a 10-year friendship!
Your Time to Transform
A big thank you from The Selling Labs for Vivien's insights on her transformation from working in a corporate to running a start-up.
We provide sales consultancy services to help you transform your business. If you enjoyed this post make sure you subscribe to our newsletter below so you don't miss out on future Leadership Corner interviews. If you'd like to get involved as an interviewee, or need help increasing your sales, then get in touch today.

Don't Miss Out
On Expert Sales Tips
Get regular updates delivered straight to your inbox with expert sales tips for tech & SaaS companies. Enter your email below and start to increase your sales now.