"What Got You Here Won't Get You There" – Marshall Goldsmith
In my experience as an executive coach, I often hear people talk about having to adapt to change and adopt different skills as companies react to altering conditions. In these rapidly changing times, executives are increasingly finding themselves having to skill-up more, technically, or having to adapt their skills as priorities change or as market conditions shift.
The American author and leadership coach, Marshall Goldsmith, captured this in his phrase "What Got You Here Won't Get You There" (2012) – an observation that goes some way towards capturing the essence of personal development in the digital age.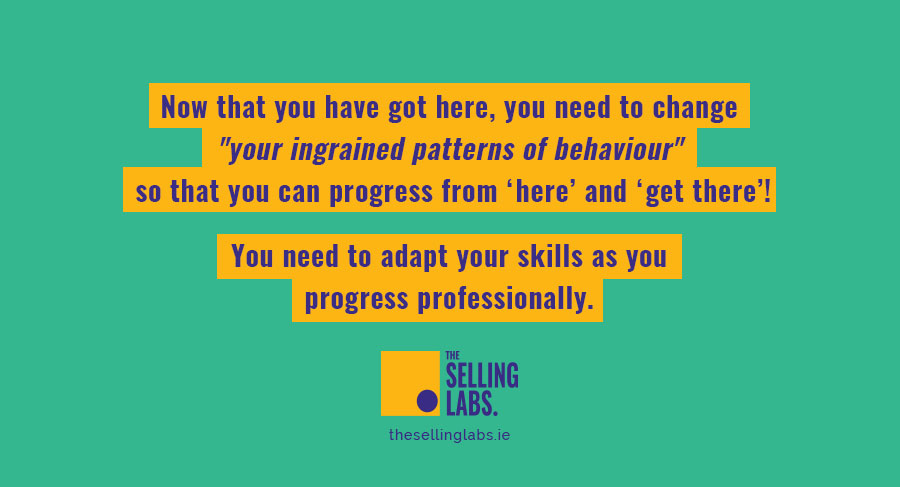 From Here to There
In your case, maybe success – a promotion or a transfer – finds you in a leadership role, as a new manager, managing the people who are doing the job you used to do. The great work you did as an individual contributor (maybe your technical expertise or your ability to influence) has secured your promotion but in the new role, you are no longer doing what you were used to and what you were good at. You need to learn a different skill – getting good results from others. In short, now that you have got here, you need to change what Geoff Pelham in his book, The Coaching Relationship in Practice (2015), refers to as 'your ingrained patterns of behaviour' (Ridler Report 2013), so that you can progress from 'here' and 'get there'! You need to adapt your skills as you progress professionally.
Self-Awareness & Change
Doing this takes self-awareness and a willingness to change. Take the example of Isabel, a high flyer in the pharmaceutical industry whose sales results had outperformed her peers for three years running. She was excellent with clients, a good fit with the company's culture, a strong communicator and could grasp change and complexity well. As such, she was the number one choice to open up the new satellite office in Manchester where she was given the responsibility of hiring her own team and building new business. Yet after six months in her new job, she was stressed, tired and anxious. She discovered that getting results out of others was much harder than driving herself, and she missed the control of a one-to-one relationship with clients.
Recalibrating Skills to Thrive
In a coaching session, we explored the aspects of her work that had got her promoted. Her drive, competitive spirit and attention to detail. But we also established that those skills needed to be recalibrated in order for her to thrive in the new role. She needed to display empathy, to inspire others and to execute in a different way. We looked at what kind of work she needed to do get from 'here' to 'there' and agreed a plan to pave the way to success which involved:
adopting a 'coaching style' of new manager with her team rather than the micro-managing one she had fallen into, though inexperience
using her in depth knowledge of the business from her front-line sales role to uncover business opportunities for her reportees, to build trust
taking time to understand each of their career aspirations, and work with each to improve development areas and to keep strengths fresh
One year on and Isabel is seeing that her ability to stand back and look at her old skills critically and realise that to succeed in the new manager role has worked. She saw that what had got her here won't het her there. She has adapted her skills as her career has developed. Her business is growing, her team has a sense of belonging and her manager is happy. And most importantly, so is she!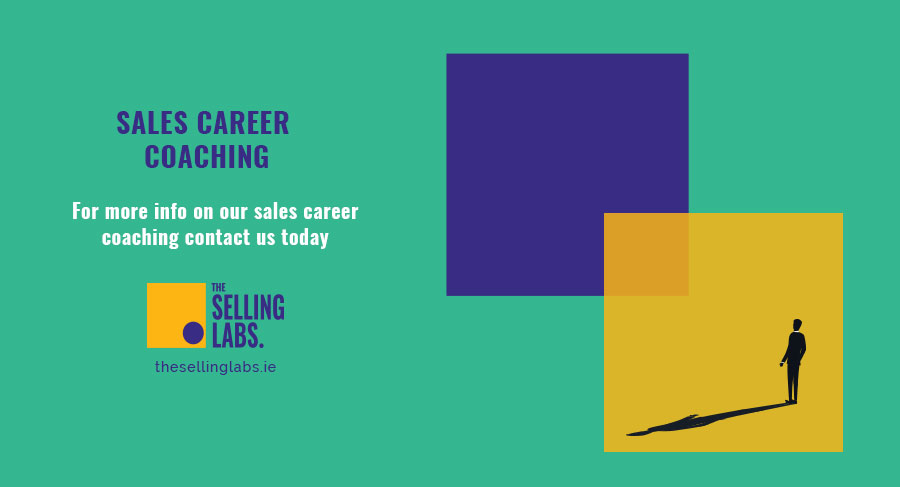 Sales Career Coaching
If you want to progress in your career or have recently received a promotion but aren't sure how to transition from "here" to "there" then we can help. We provide sales career coaching for all levels and with a few sessions can help get you "there". For more info on our sales career coaching contact us today.
Don't Miss Out
On Expert Sales Tips
Get regular updates delivered straight to your inbox with expert sales tips for tech & SaaS companies. Enter your email below and start to increase your sales now.