Sales and leadership go hand in hand. Leadership provides guidance, direction, inspiration and motivation and by facilitating functioning teams in this way they are empowered, motivated and open to delivering on new opportunities. Sales organisations need experienced, knowledgeable, charismatic, and motivational sales leadership to keep teams productive through good and bad times. A sales leader's job is to create the sales strategy in conjunction with other department heads, and establish the sales culture, drive revenue goals, and help to exponentially grow sales.
A sales department can be turned around by a driven, effective leader and it can face dangerous slumps by a demotivated, ineffective one.
What Makes Great Sales Leadership?
Great sales leadership is easier said than done. Many companies struggle to establish effective leadership. A common mistake is to leave the organisation's sales strategy to the CEO or MD. While the wider business needs to agree on the sales revenue goals at an organisational level, the sales leadership role should be entrusted to someone familiar with the market challenges, industry dynamics, sales and deal closing techniques. A true sales leader can help top salespeople outperform and drive growth for the company, increasing market share and profit. Effective leadership needs a particular skill set that will include a variety of essential functions to improve the sales experience. Other mistakes are mistakes in the hiring process. Does the candidate have the right experience, drive, passion and technical knowledge?
The best sales leaders will build on the existing sales methodology and process. Why? Because the sales manager is responsible for the wins and losses, providing effective coaching and delivering focus on sales performance. Sales managers have already earned the trust of team members. So they can combine sales management activities with an effective sales leadership role. However, it might not be an overnight success. The company will need to focus on leadership development to succeed. According to Harvard Business Publishing, quality sales managers will be crucial to grow revenue in a post-pandemic environment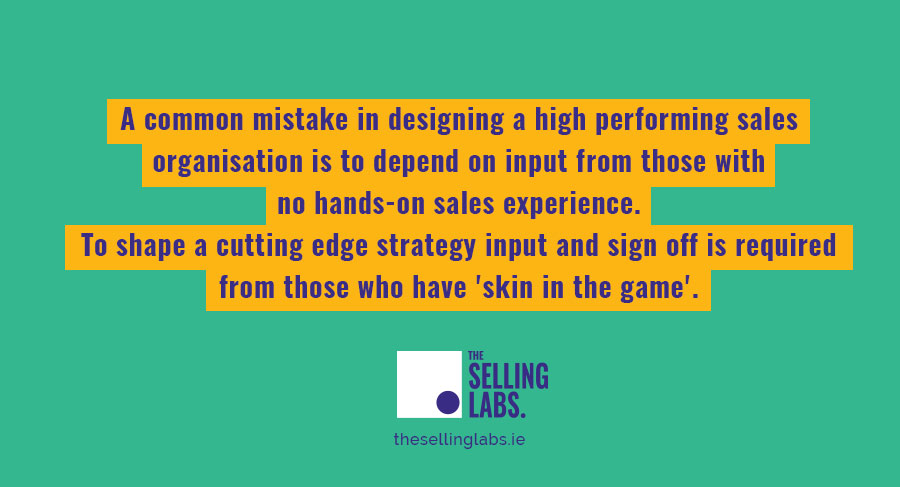 There are 8 different sales leadership styles that vary depending on the style, skills and experience of different leaders and we'll explain each of them below.
Transactional Sales Leaders
Transactional sales leadership is a result-oriented sales management approach. Transactional sales leaders promote compliance and goal achievements through a system of recognition, feedback, rewards, and supervision. When salespeople are successful, they are rewarded. When they are not, they are provided with development feedback to improve performance. Sales leaders use a transactional model in mid-sized to large companies where the sales process is clearly established and doesn't require transformation. Managers can encourage salespeople's performance with incentives such as a commission strategy.
Transactional leadership has the following characteristics:
A focus on metrics and intricate goals to drive productivity
High hierarchy focus to prevent disruption to the sales process
A 'controller' style of leadership
Minimal feedback and input from the juniors up
A reactive rather than proactive culture
Transformational Sales Leadership
A transformational sales leader focuses on empowering individual sales reps through professional development and sales coaching. Effective sales leaders in a transformational model try to improve and change the sales culture to encourage commitment to the business values and objectives. Leaders are not afraid of creative thinking. They encourage salespeople to question the status quo, driving improvement and sales performance.
Transformational sales leaders understand sales team motivation and can build success through intellectual stimulation, idealised influence, and individualised consideration. Transformational sales leadership roles are more frequent in innovative and creative sectors. They can drive remarkable growth in the right circumstances.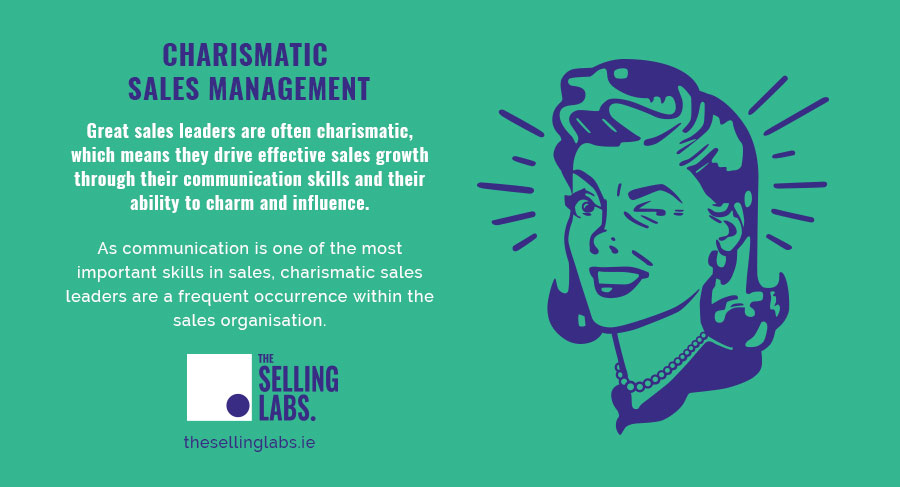 Charismatic Sales Management
Great sales leaders are often charismatic, which means they drive effective sales growth through their communication skills and their ability to charm and influence. As communication is one of the most important skills in sales, charismatic sales leaders are a frequent occurrence within the sales organisation. Sales managers who are confident, motivational, charming, optimistic, empathetic, and strong communicators tend to make some of the most effective sales leaders.
They inspire sales reps to achieve success and encourage a positive team culture. Typically, a salesperson who learns from a charismatic leader is more likely to earn clients' approval and new sales opportunities. Charismatic management prefers a goal-focused leading approach.
Autocratic Sales Leader
An autocratic sales leader works in a top-down management role where the leader takes all the decisions without the sales team's interference. This surprising sales enablement approach can be time- and cost-saving to provide quick and effective guidance on the job and a reliable business structure. In a high-pressure organisation, a controlling leadership style can release pressure from salespeople, allowing them to focus on selling. Typically, an autocratic leader is the most knowledgeable person in the team, which enables them to make decisions rapidly and for the benefit of the company. In the right environment, controlling sales leaders can drive the sales process by removing unnecessary disruptions.
Therapist – A Humanist Approach to Leadership
People-oriented leaders build a valuable relationship with each salesperson within the business. The humanist sales leader actively seeks relationships with the sales team and includes them through all sales processes and decisions. As a result, the manager focuses on building growth for every team member, utilising coaching programs and dedicated sales training to improve results. This type of sales leader prefers to coach rather than lead the team. Their open dialogue enables them to strengthen the sales team position within the business while meeting performance objectives. The advantage of people-focused leadership is that when a salesperson feels valued and understood, they are more likely to contribute to the organisation's success. A coaching strategy can develop selling skills among the team and support the business in the long term. However, in the short term, a therapist leader will choose to ignore sales forecast accuracy for the benefit of developing individual salesperson's abilities. Science journalist, Daniel Goleman, developed a complete guide of emotional intelligence for company leadership with a team of experts including the former Vice President of IBM sales cloud software. In it, he identifies this affiliative style as a core element of a harmonious atmosphere to reduce stress.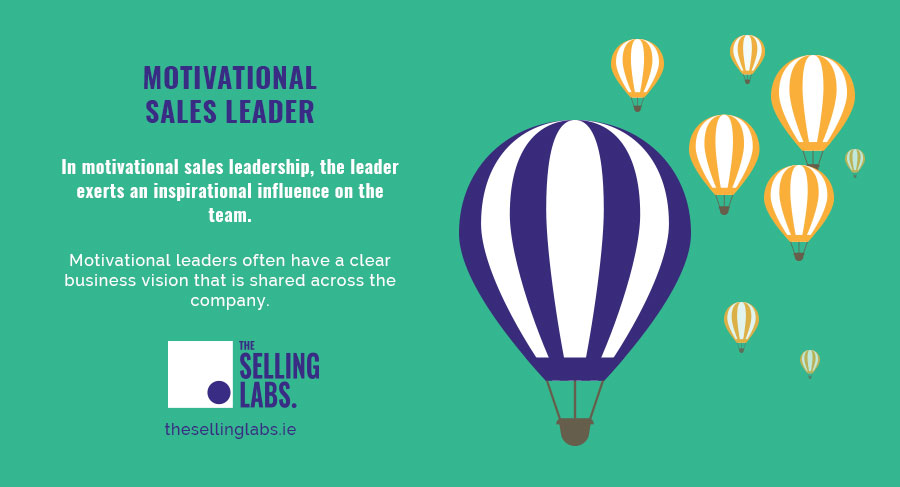 Motivational Sales Leader
In motivational sales leadership, the leader exerts an inspirational influence on the team. Motivational leaders often have a clear business vision that is shared across the company. Because they are self-motivated, motivational managers frequently seek out new thought processes and ideas to improve selling performance. They are completely committed to achieving their goal. As a result, they keep each salesperson motivated by recognising and praising good work and keeping their promises. A motivational leader ensures their behaviour reflects their values, so they create a safe and supportive environment to coach and encourage the team toward reaching the company's goals.
Messiah/Visionary Leadership – a strong culture and followers
Visionary leaders play a crucial role in moving an organisation forward. They set out the essential steps that can bring the company's vision to life. Highly organised, the Messiah leader often works with a complete guide analysis of the company's sales process and objectives. The leader is highly communicative and encourages ongoing collaboration, focus, and short-term risks for the greater good. They use their EQ to reach out and convince team members of the mission, leading success through strategic inspiration. These managers will play a vital role in helping a company to bounce back after the pandemic.
Inclusive Leadership
Inclusive sales leadership is one of the most effective strategies to revive sales organisations from a slump. This type of leader understands the importance of making people feel included in the overall strategic process. They encourage collaboration within the team, building awareness and cultural intelligence to enable team building. Inclusive leadership can be highly effective in companies with a diverse workforce.
Sales Leadership Consultancy
In conclusion, the right leadership style depends entirely on your company's needs, salespeople, sales objectives, workplace environment, and management personality. There is no right or wrong style, as each has proven to be successful. However, a sales manager needs to consider which is best suited for their unique situation.
If you are part of a sales team and need some leadership or sales consultancy then feel free to contact us today to learn about our services.
Don't Miss Out
On Expert Sales Tips
Get regular updates delivered straight to your inbox with expert sales tips for tech & SaaS companies. Enter your email below and start to increase your sales now.