However good your product is, companies won't invest in it unless you convince them they should and, even when you do, success is never guaranteed. But there are steps you can take in the Saas sales process to ensure that every opportunity to partner with a business or make a sale is maximised. It is crucial that you have a good understanding of the SaaS (Software as a Service) sales funnel so you can improve your sales and in this post we'll give you the info you need to do so.
SaaS Sales Funnel – The Most Important Element in Your Sales Strategy
Ensuring a productive 'SaaS sales funnel' is vital for improving your sales – in fact it's the most important element of your sales strategy. From the early stages of attracting attention, to engaging a potential customer with compelling information, all the way through to the ultimate handshake, the SaaS sales process is a delicate balance of push and pull to secure a full book of business.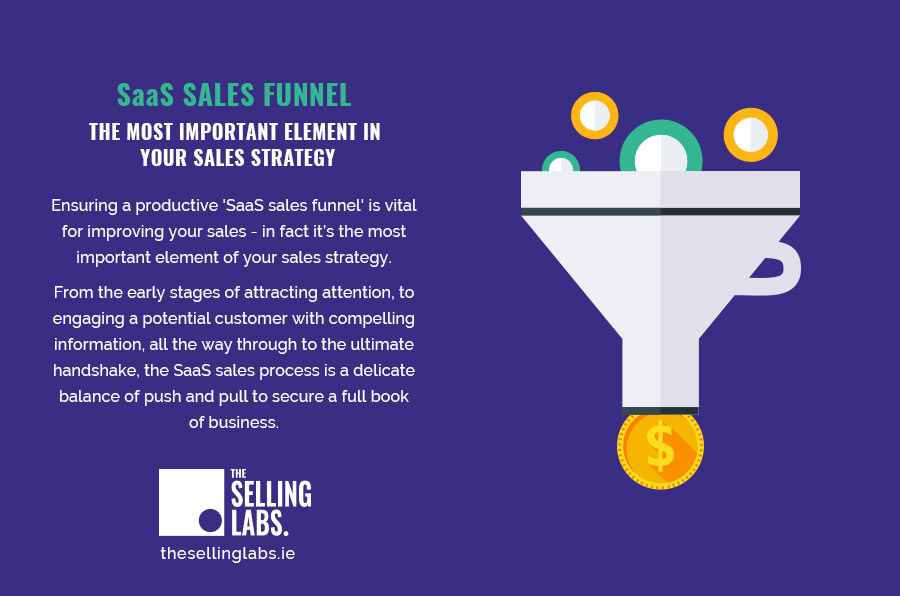 SaaS Sales Process Fundamentals
Your SaaS sales strategy will need to be subtly tailored to what's required at each stage of the sales funnel – but the sales fundamentals remain the same.
The sales fundamentals are:
You're proactive
You listen well
You can visualise and articulate the end goal
You believe that success is a win-win for both parties
You are a trusted partner
Why Is It Hard to Sell a SaaS Product?
As discussed before, sales is hard and whilst the sales fundamentals are relatively straight forward convincing a company to invest in a SaaS product is one of the more difficult sales tasks because:
It's one of the fast-growing sectors globally. You're not the only one trying to get a slice of the pie
The business model is usually on a subscription basis. This can be off-putting to many who are unwilling to tie themselves up in wordy contracts and small print.
The accessibility and convenience of the high volume of products on offer in every sector of business can be expensive.
The size and complexity of a contract may mean multiple stakeholders are involved in the decision. This can slow things down.
Whatever the characteristics of your sector, understanding the process involved in your prospects decision making process gives valuable insights into how you should position your product in the overall scheme which can help boost sales performance. Fine-tuning your approach in tandem will make you more successful.
The Stages of a Purchase Decision – SaaS Sales Process Steps
Normally a purchase decision is made over four stages:

Stage 1: Awareness
In the beginning no one knows about your product. They probably don't even know they need your service. And you don't know who they are. Sales pushes and marketing campaigns may prick their ears but it's a cluttered market. During the first step of the SaaS sales process your marketing content will stimulate enquiries and your sales team may be on the phone but that doesn't automatically translate into a book of business.
A few things may make the process better for you:
Ensure your value proposition is convincing – unique, compelling and what the company is looking for.
Select a simple sales methodology and develop a compelling pitch. The simple AIDA sales model has been widely used since the 1950s – there is a reason why!
Take the time to create an 'ideal customer profile' and regularly compare it to your pipeline to ensure you're building the right portfolio of customers that will do well using your service.
Accept that this early stage is slow and set your financial targets to reflect this. Some SaaS companies have a phase-in period before they expect revenue on the dashboard.
A sales rep's time is best spent in front of a prospect however they also develop precious industry knowledge. Make room for your team to generate their own opportunities while ensuring their pipelines never run dry.
Founder Tip: Stay close to the SaaS sales process. Particularly in the early days you should be personally involved in large customer acquisition. Clients expect it, and it helps you keep your ear to the ground.
Stage 2: Engagement
Now you have your prospect's attention. The business relationship is moving forwards. Your prospect might reach out for more information or enquire about prices. A skilful sales rep will strike a balance of keeping the momentum up without being too pushy. And he will be able to handle any question or objection thrown his way.
20% of your time will bring in 80% of your results – write down the sales goal and make it specific. Capture what it means to you to achieve it and how you will feel. Refer back to this frequently and compare it with what you're actually doing.
Invest in a good CRM system to forecast your revenue accurately. This will give you a stage-by-stage health of the business and insights into the performance of your sales team
In your excitement to close a contract, don't get distracted and accept a short-term win. This can cause problems down the line with an unhappy client
Founder Tip: Manage your working day tightly. Founders usually graduate from a product background and tinkering with the mechanics is their default comfort zone. 'Ten before ten' is a good discipline – get ten sales tasks completed by 10am.
Don't Miss Out
On Expert Sales Tips
Get regular updates delivered straight to your inbox with expert sales tips for tech & SaaS companies. Enter your email below and start to increase your sales now.
Stage 3: Exploration
Your prospect is close to committing. Internal discussions are hotting up. This is the time to nurture the relationship by maintaining a sense of urgency as you edge towards the finish line.
Avoid communication by email. The phone gives you a better pulse of what's going on.
Free up your calendar for last minute hitches. Check in every few days to ensure the client feels supported
Salespeople can be self-conscious about closing. Agree all elements of the contract clearly and firmly, ensure the paperwork is completed and that both parties feel good about the agreement.
Experiment with closing styles. Create urgency with the 'depth charge close'- ''What more information can I provide you with, to help you make a decision. Or shall I close down your enquiry?''
Founder Tip: Reward your team with non-revenue recognition metrics like call time and number of meetings scheduled. This keeps them motivated while they wait to generate revenue.
Stage 4: Conversion
You're there! You've closed the deal. Now the pressure is on to get the company set up and the product performing. But don't forget to celebrate success first!
Provide your team with regular product refreshers and sales training. Appoint mentors and conduct mock-pitch role-plays
Do a post mortem on the sales process – what were the successful lead types, the spend pattern, the pitch that works.
Decide on the metrics to measure your business. Publish and analyse them regularly and rigorously.
Founder Tip: Instil a data-driven culture in your company. Measure performance based on data and make decisions objectively. Invest in reliable systems that give real time data and "torture the metrics until they confess"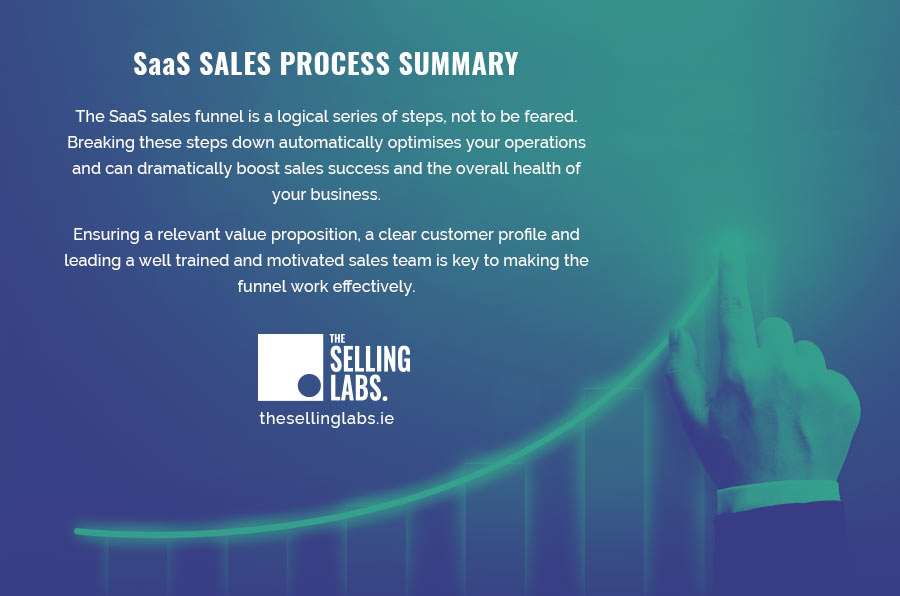 SaaS Sales Process Summary
The SaaS sales funnel is a logical series of steps, not to be feared. Breaking these steps down automatically optimises your operations and can dramatically boost sales success and the overall health of your business. Ensuring a relevant value proposition, a clear customer profile and leading a well trained and motivated sales team is key to making the funnel work effectively. Your job as Founder will be to stay close and support the team and your clients.
To see how we can help you and your business improve your SaaS sales process then schedule a call with us or contact us online now.
Coming Soon!
In up-and-coming blogs we'll be covering other essential topics including (1) the importance of a watertight CRM (2) driving sales behaviour with compensation structures and (3) SaaS sales training and (4) SaaS sales leadership. Make sure to check back soon!
Don't Miss Out
On Expert Sales Tips
Get regular updates delivered straight to your inbox with expert sales tips for tech & SaaS companies. Enter your email below and start to increase your sales now.