Understanding The SaaS Sales Cycle
According to Valuates Reports, experts expect the global software as a service (SaaS) market to reach $307 billion within the next five years. Indeed, the SaaS industry has shown no sign of slowing, almost multiplying the market size by 12 between 2010 and 2020. As a result, the SaaS sales process has grown and evolved significantly since the first software as a service hit the market.
For sales and marketing teams with no web-based software selling experience, approaching the software sales process can be a challenging transition without appropriate guidance. Below, we provide a practical reference guide to help professional SaaS sales teams, and those who work with them, understand the unique features of the SaaS sales cycle. You will find invaluable SaaS sales techniques proven to take a business prospect throughout the essential stages of the sales cycle until purchase. If you are looking at strategies to support your SaaS sales specialist team and target customers for your SaaS product, this overview of the selling SaaS cycle is for you.
What is SaaS?
Software as a service, or cloud-based software, is a web-based method of software solution delivery. In a web-based software model, the SaaS vendors are responsible for the hosting and maintenance of all relevant databases, code, ad servers. In this specific model, the SaaS customer doesn't need to install the application on their business network. Instead, you can access and run the SaaS application directly from your Internet browser. As a result, the industry presents two significant USPs:
SaaS solutions typically use a subscription model, while on-premises solutions that need to be installed locally require a license;
SaaS deployment doesn't require additional hardware or maintenance.
As a result, cloud-based solutions have grown in popularity over the years. The pandemic crisis has forced many companies to rely on digital, remote, and reliable solutions, making SaaS software the best strategy to survive.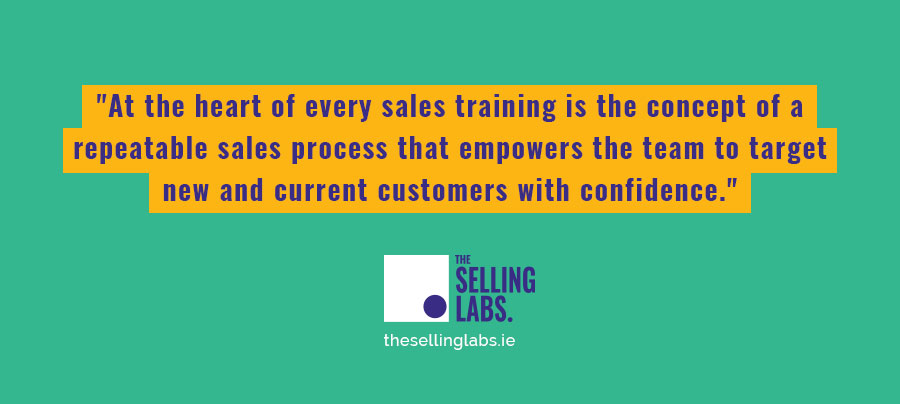 SaaS Sales Cycle Stages
Our dedicated sales consultancy team works hand-in-hand with your sales manager to help them understand how the essential sales model stages fit your sales operations. Indeed, at the heart of every sales training, the concept of a repeatable sales process empowers the team to target new and current customers with confidence. Therefore, a typical SaaS sales process can be broken down into identifiable and predictable stages.
We have identified the stages that create a predictable sales cycle for web-based software:
Finding the target audience ad identifying the ideal new customers
Prospecting and capturing SaaS leads
Qualifying leads
Presenting your SaaS product (typically remotely via a product demo; this can involve a free trial period)
Responding to objections
Closing the deal
Nurturing the customer (to upsell existing customers and grow existing accounts)
Understandably, sales processes rely on effective tools throughout the sales cycles. A top-quality CRM system that's fully integrated with an email automation tool is a no-brainer. We also recommend investing in a sales-dedicated phone system, proposal tools, lead analysis, ad management solutions and a reliable cooperative system for your dedicated sales operation.
B2B SaaS Sales Cycle
Developing an effective and reliable SaaS sales process is essential to maintain both recurring revenues and customer acquisition. According to SaaS benchmarks, software as a service businesses with a yearly growth rate of 20% have an 8% chance of surviving. In other words, B2B sales strategy needs to focus on leveraging SaaS sales metrics for growth.
An effective sales cycle will support your SaaS reps. Following the stages mentioned above, the SaaS strategy also refers to four SaaS key metrics:
Customer Acquisition Cost (CAC) – A valuable prospect must not have a high customer acquisition cost, as it can lead to null or negative revenues. A free trial approach is an effective business touchpoint.
Net Promoter Score – This reflects the willingness of customers to recommend the business. A high Net Promoter Score raises brand awareness and decreases customer acquisition costs. They also share the benefit of customer success.
Monthly Recurring Revenue – Your monthly recurring revenue needs to be both high and constantly growing. Typical statistics also reflect the quality of leads, the value of existing customers in the long term, the retention of paying customers, and the progress toward annual recurring revenue.
Churn Rate – Not everyone stays with your business. The churn rate highlights how many customers leave your business over time vs. retaining customers.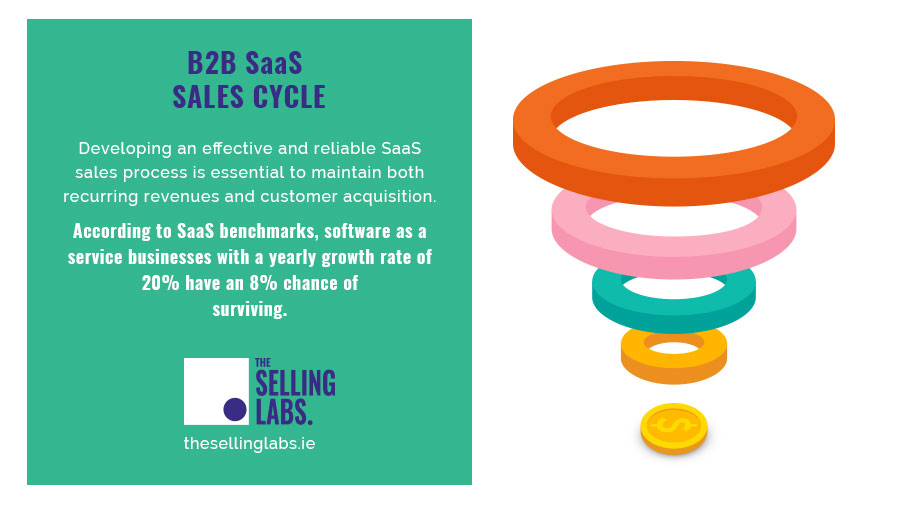 Average Sales Cycle for SaaS
Understanding the length of the SaaS sales cycle can help make accurate sales revenue forecasts. At this point, it's essential to identify different types of B2B customers: Corporate or enterprise-sized businesses and SMBs. These customers have different requirements and budgets, which reflect on the length of the sales cycle.
According to B2B SaaS sales cycles metrics, SaaS companies can predict the length of each cycle based on the annual contract value (ACV):
| | |
| --- | --- |
| ACV ($) | SaaS sales cycle (average in days) |
| < 2,000 | 14 |
| < 5,000 | 30 |
| < 25,000 | 90 |
| < 100,000 | 90 – 180 |
More expensive products will need the buy-in from more than one decision-maker and stakeholder within the customer company, hence the longer sales cycle. It makes sense to have multiple sales teams to address different cycle lengths and needs.
Enterprise SaaS Sales Cycle
Enterprise sales typically use three different types of sales strategies, depending on the complexity of the SaaS product, the predicted ACV, and the novelty of the market.
The Enterprise software sales technique focuses on complex SaaS products requiring a high budget and additional training and customer support.
Self sales (self-service sales) are one of the most popular SaaS sales techniques, which is a preferred approach for low-budget products and low CAC. This is typically seen with B2C customers but can also appear in B2B environments for small products.
The transactional sales model on the other hand involves traditional sales strategies. As it is a highly scalable model, it is best suited to small enterprises. The sales process involves targeted activities from marketing professionals, as well as techniques to capture SaaS leads. This model requires high customer experience. To learn more about selling techniques check out these tips on how to close a deal.
SMB SaaS Sales Cycle
SMBs have understandably different pain points as a result of their size, budget, ad market positions. Consequently, SaaS businesses need dedicated sales methodologies to meet the needs of smaller companies. The SMB SaaS sales cycle is fast and to the point. SMBs are concerned about immediate time to customer value benefits, repeatability, and profitability.
They respond well to transactional sales and self-service sales approaches, depending on products and sectors. Additionally, SMBs are often early adopters of innovative SaaS solutions.
SaaS Sales Consulting
We hope this overview gives you the keys to start a successful SaaS business. If your business is considering sales training to help maximize your SaaS sales, please don't hesitate to get in touch with our team of experts.
Don't Miss Out
On Expert Sales Tips
Get regular updates delivered straight to your inbox with expert sales tips for tech & SaaS companies. Enter your email below and start to increase your sales now.