Once seen as the maverick of many organisations, bewildering the marketing and finance departments and rubbing product developers up the wrong way, the inside sales function has been transformed in the digital age, thanks primarily to the strength and sophistication of modern technologies and the new leadership techniques they have, in turn, helped to shape. But what exactly is inside sales and how can you set up an inside sales team? Read on to get the inside track to inside sales!
Better Than Match Tickets
While it once was the lure of free match tickets that helped to close the sale or clinch the deal, it is now more likely to be the revelations of big data and the efficiency of virtual communications techniques that ensure a successful outcome! Specifically, tech sector sales methods are most likely the result of a metric-based machine that accurately interprets previously unquantifiable information on consumer buying behaviour to create powerful sales propositions that are almost self-fulfilling and which few free match tickets could ever equal!
Don't Miss Out
On Expert Sales Tips
Get regular updates delivered straight to your inbox with expert sales tips for tech & SaaS companies. Enter your email below and start to increase your sales now.
Inside Sales Definition
SMBs, often nervous about setting up sales functions due to their own lack of sales nous, recognise that in order to create scale, a sales resource is arguably the essential addition to its business effort. But how is inside sales defined? Ultimately, inside sales is a way of handling sales remotely. The job of an inside sales person requires them to sell a companies products or services via phone, email or other online channels.
Difference Between Inside Sales and Outside Sales
While 'face-to-face' or 'field' sales organisations come with a high price tag and many other complexities, 'inside' sales organisations, based remotely from their markets, and set up to produce a stream of sustainable revenue, are scalable, and low risk – so long as you know what you're doing.
Inside Sales and SaaS
If you've been working on your SaaS sales process and are looking for the best way to sell your SaaS product quickly, efficiently and more systematically, then an inside sales organisation is certainly an option worth considering. And if you do choose one, you certainly won't be alone – the growth in vacancies for inside sales has outpaced those for field sales and over two-thirds of sales leaders plan to adopt a hybrid or fully remote selling model in 2021 seduced, in the main, by their flexibility and high return on investment. (HubSpot Research Global Sales Enablement Survey 2020)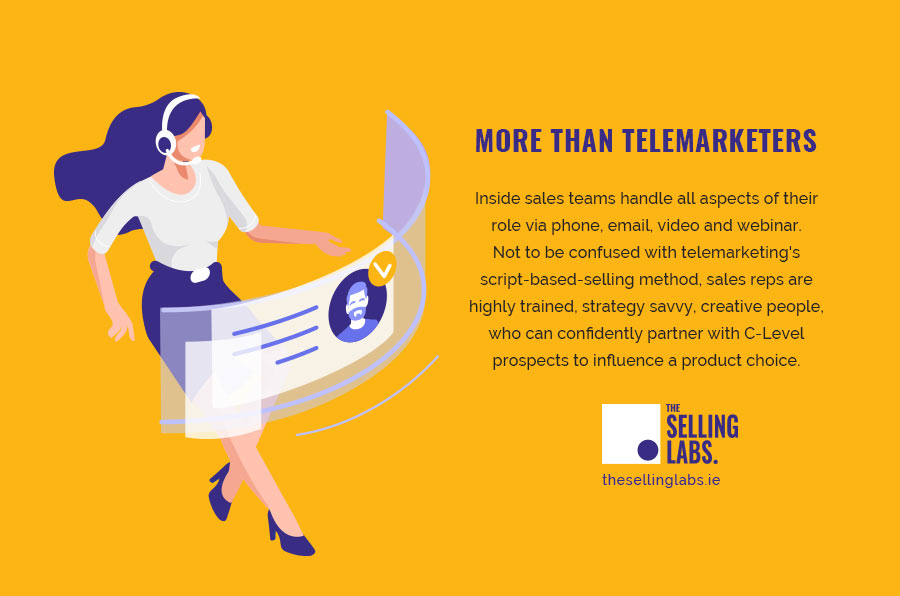 More Than Telemarketers
Inside sales teams handle all aspects of their role via phone, email, video and webinar. Not to be confused with telemarketing's script-based selling method, sales reps are highly trained, strategy savvy, creative people, who can confidently partner with C-Level prospects to influence a product choice. They work best when supported by end-to-end, tech-based processes that automate all stages of the sales process. Teams rely on sophisticated digital communications and technology to communicate with their clients – phone line, video, webinar process, CRM and online shared documentation.
Setting Up An Inside Sales Team – The Inside Track

There are some crucial points to consider when setting up your team:
Get the Sales Basics Right: Define your value proposition, point of difference, write your customer pitch.
Know Your Target Market: Who are you selling to? What is their biggest pain point and primary objective?
Hire Smartly: Prior experience in sales used to be a prerequisite but more recently companies see the benefit in recruiting bright graduates who can learn fast.
Customer Relationships Management: Widely regarded as the best tool in the inside sales kit, investing in a good CRM is essential.
Sales Process: Your team needs to tailor their sales messages to each funnel stage so taking time to get this right is important.
Sales Metrics: Picking the right sales metrics to measure your team's performance and publishing them regularly will allow you to track and reward performance.
Leadership: The single most important consideration when building your sales organization is who will lead it. We've given more thought to it below.
A Coaching Style of Sales Leadership
Traditionally sales worked with a hands-on, directive style of management but in recent times many companies have seen the merits in adopting a more facilitative style of management referred to as coaching. A coaching approach helps to:
Avoid command-and-control practices – give support and guidance rather than instructions.
Instil a feedback culture – give positive encouraging feedback and point out areas for improvement.
Have a transparent and metrics-driven target system – fair, achievable and measurable.
Support teams with a steady flow of qualified leads – a rep's time is best spent in front of a prospect while the marketing department qualifies the opportunities.
Encourage your sales team to contribute to company strategy – inside sales is one of the few departments that is regularly at the coal face of the industry.
The Science of Digitalisation Combined with the Art of Sales
By combining the science of digitalisation with the art of sales, inside sales departments have taken big steps forward in modernising themselves and providing SaaS companies with the revenue growth they need. This has, in turn, changed the way companies view their hiring and leadership strategies. Now that the work environment has turned more online and more remote, inside sales has an advantage by being already set up in a technically superior way.
Inside Sales for Businesses
Here at The Selling Labs we are specialist sales consultants for Saas and tech businesses and have been advocates of inside sales for a while now. With the pandemic and requirement for more remote work, the role will only continue to expand and as such it is something that forward thinking businesses should consider as part of their sales plan. If you're looking to set up a sales department for your SaaS product, we can show you how. You'll be joining hundreds of your competitors who have already made the leap. Schedule a free exploratory call to find out more or contact us online and a member of our team will get back to you asap.
Don't Miss Out
On Expert Sales Tips
Get regular updates delivered straight to your inbox with expert sales tips for tech & SaaS companies. Enter your email below and start to increase your sales now.