B2B SaaS Guide for Businesses
The pandemic has forced businesses to turn to online solutions in the absence of the more traditional tools for marketing and communication. This is good news for SaaS companies. Post-pandemic budgets commit 50% more to cloud computing technologies as businesses market, sell and distribute using the Internet. Consequently, the demand for software as a service has increased dramatically.
CEOS and Entrepreneurs considering utilising or offering a SaaS-style product need to develop a knowledge of how SaaS businesses operate and how in particular B2B SaaS businesses build success. Below, we tackle some of the most important considerations you need to know about running a software company that doesn't sell any downloadable end product to customers- the definition of a SaaS business.
B2B SaaS Meaning
Software as a service is a unique software delivery and distribution model: the SaaS company hosts and maintains the software application, making it accessible to the customers via cloud technology. B2B SaaS businesses sell their products to other businesses as a service, rather than a tangible product. The B2B SaaS market focuses on software solutions that support business processes. These could be sector-specific, such as SaaS applications for the healthcare sector, which must comply with the relevant data privacy legislation in place (HIPAA in the USA, ICO in the UK). But SaaS products can also offer a sector-inclusive approach, such as digital team collaboration tools. B2B companies rely on these products to optimize their activities, including marketing, customer services, sales, and internal operations. SaaS companies are committed to customer success, as successful businesses are more likely to stay loyal and become brand advocates. Additionally, by monitoring activities in their products and managing customer feedback, B2B SaaS businesses can foster lifetime value, mutual growth, improve the solution, and deliver enhanced services.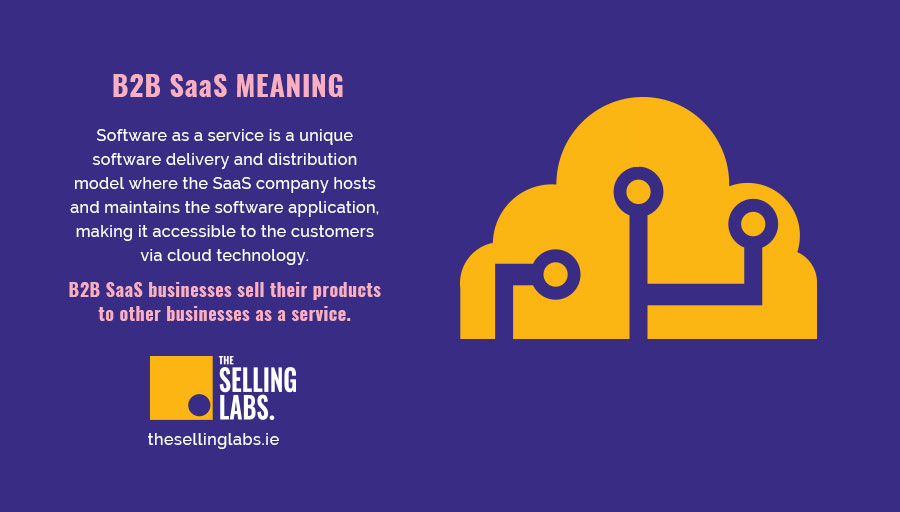 B2B SaaS Marketing
The B2B SaaS industry identifies a user's pain point and establishes user needs as part of the business strategy. The strategy focuses on addressing business needs to boost customer success. In the B2B SaaS model, purchases are a long-term investment, which means a longer SaaS sales cycle than in the B2C sector. Therefore, SaaS marketing strategies need to reflect the challenges to attract new customers and grow the customer base.
The marketing team build goals around critical processes that are aligned with the sales team activities:
Grabbing attention and creating valuable content = Potential customers
Offering a free trial = Qualifying the lead
Becoming a thought leader = Lead generation
Turning early adopters into advocates = Customer success becomes testimonials
The typical marketing activities for B2B SaaS operate in the digital sphere. SEO or Search Engine Optimization plays a critical role in online visibility, making the brand easy to find. SEO is also part of content marketing activities, showcasing SaaS expertise for rankings and visibility. Paid media activities, including pay-per-click ads, display advertising, and social media PPC, enable the SaaS business to target relevant demographics and queries. Emailing activities support the sales cycle and take potential users through the steps from free users of a trial solution to paying customers.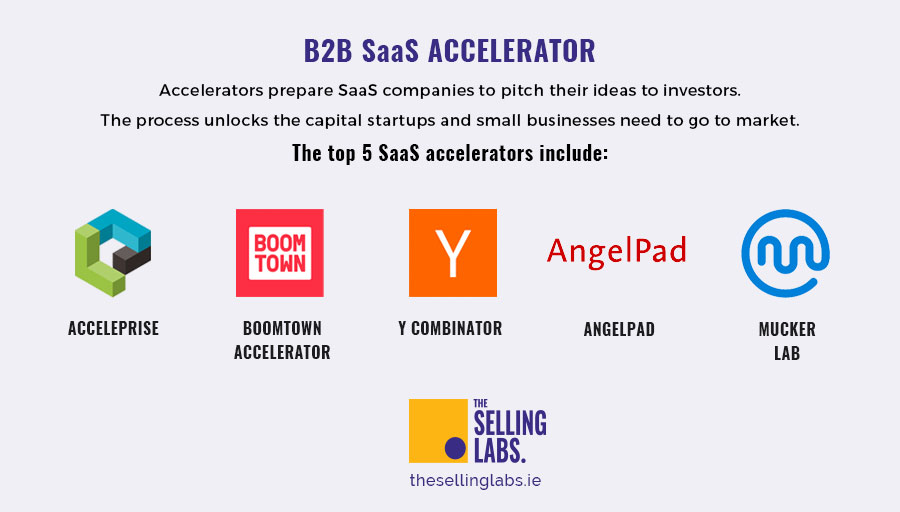 B2B SaaS Accelerator
The typical SaaS company needs to find funding to bring its SaaS product to the market and generate SaaS growth. That's where accelerator programs can make a huge difference. Accelerators prepare SaaS companies to pitch their ideas to investors. The process unlocks the capital that Start-Ups, and SMBs need to effectively reach their market.
The top 5 SaaS accelerators include:
Acceleprise
Boomtown Accelerator
Y Combinator
AngelPad
Mucker Lab
Biggest B2B SaaS Companies
Some of the largest B2B SaaS businesses deliver applications that are integral to the operative processes of most businesses. Using the G2 Grid Scoring Technology, here are the software companies with the highest scores for customer experience and market presence. The following applications are also available via regular app stores.
Google owns a variety of applications that enhance content sharing, collaborative projects, and marketing analytics including Cloud Content Collaboration, Google Analytics, Google Drive, Google Hangouts and more recently Google Meet for video conferencing.
MailChimp is a leading business for email marketing, providing an easy solution to companies of all sizes.
The Microsoft suite is available as cloud applications, including a collaborative work platform Microsoft Team, CRM tools, employee engagement, and video call features.
Slack is another reputable business that has made its way into many companies, offering productivity solutions and instant messaging. Most clients use either Microsoft Team and Slack.
Adobe is the preferred digital and print media go-to company for the creative industry, with over 50 different SaaS software solutions. Clients typically work in marketing agencies and design teams.
B2B SaaS Sales Strategy
The pandemic has dramatically increased the appeal of SaaS applications. B2B software as a service model focuses on the biggest benefits for the business, saving time, more money, and resources to clients. The typical B2B customer expects solutions to continually improve and adjust to new trends. Indeed, sales activities need to drive the average revenue per period higher, whether monthly or annual recurring revenue. As the SaaS model comes with fixed costs per user, the sales strategy is crucial to growing your customer number.
It makes sense to align sales and marketing strategies, so qualified marketing leads can be passed to sales. A free trial offer allows the business to explore features before joining the subscription model. Experts recommend monitoring conversion rates per trial subscription. For example, requiring credit card details to sign up could boost the conversion rate. On the other hand, upfront cash on sign-up can reduce it.
The right pricing model for your market will drive more customers. Business models vary, and hence your pricing strategy will affect the overall success of the SaaS business. Small B2B clients might struggle with a high flat fee. But low entry fees are damaging for revenue growth. But as much as pricing matters, the SaaS business sells a methodology that can enhance customer success, lower costs for the client, and proactively deliver custom development strategies to move the client in the right direction. For existing customers, it's more than a product.
The business can also upsell to a qualified new user to increase the monthly recurring revenue and support positive cash flows. Upselling is advantageous, reducing churn by creating more value for the client.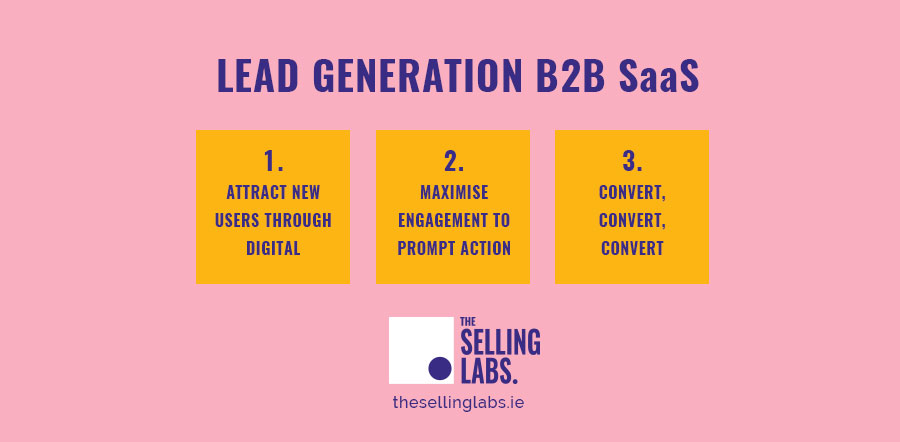 Lead Generation B2B SaaS
Lead generation is the process of attracting and nurturing a lead after which they are informed and convinced enough to commit to purchasing. The SaaS lead generation consists of 3 main phases:
Attracting new users to your digital platforms
Maximizing engagement to prompt a call-to-action
Lead conversion
It is worth noting that lead qualification- targeting the right customer for your business- is crucial to success. You can significantly reduce the churn rate and improve customer retention with qualified leads. Failure to qualify your leads will drive customer acquisition costs high and reduce win rates.
Some of the most effective lead generation strategies include:
Turning paying customers into advocates with customer success stories and discounts,
Using automated digital workflows and chatbots to generate and qualify new contacts,
Creating content that showcases your expertise and shows customers new ideas to leverage the tools,
Encouraging social selling strategies,
Cross-selling new features to existing users.
SaaS Sales Consulting
We hope this guide to B2B SaaS gives you the info you need to take your business to the next level. If your business is considering sales training to help maximize your SaaS sales, please don't hesitate to get in touch with our team of experts.
Don't Miss Out
On Expert Sales Tips
Get regular updates delivered straight to your inbox with expert sales tips for tech & SaaS companies. Enter your email below and start to increase your sales now.