Lisa-Nicole Dunne is an impressive mix of business nous and personal compassion. An advocate for social change, sustainability and equality, with extensive experience across various sectors, she has helped to raise more than €70 million for global, national and local issues. Now Founder and MD of Mantra Strategy she helps companies put meaning at the heart of their strategy for greater global, societal and local impact.
A psychology graduate, she is the Chair of the Charities Institute and WorkEqual's International Women's Day Campaign. As if that isn't enough she is Founder of The Lunchtime Circle, a think tank for social enterprises and charities.
1. Welcome Lisa. To kick off, tell us about you and your career highlights?
Lisa-Nicole Dunne: I completed an MBA 20 years ago, and that was definitely a key contributor to my securing key roles in companies like BMW, UNICEF, and Director roles with other multinationals. One memorable career highlight was when I was working in BMW and our small local office rolled out an innovative CRM solution by embedding customer satisfaction. This was rolled out to 22 markets!
Another highlight was starting up Focus Ireland's Shine a Light initiative where business leaders spent a night sleeping rough with the charity to understand the devastating effect of homelessness. It was exciting to watch that it grow from strength to strength. When I was CEO at CMRF Crumlin I led the merger of the foundation with Temple Street – that was a great experience and a great contribution to my understanding of how mergers worked.
But the most notable highlight was definitely paying myself my first paycheck, and knowing that I had the freedom to choose the work I could do from here on in and help make an impact for companies and communities – that personal impact is very rewarding.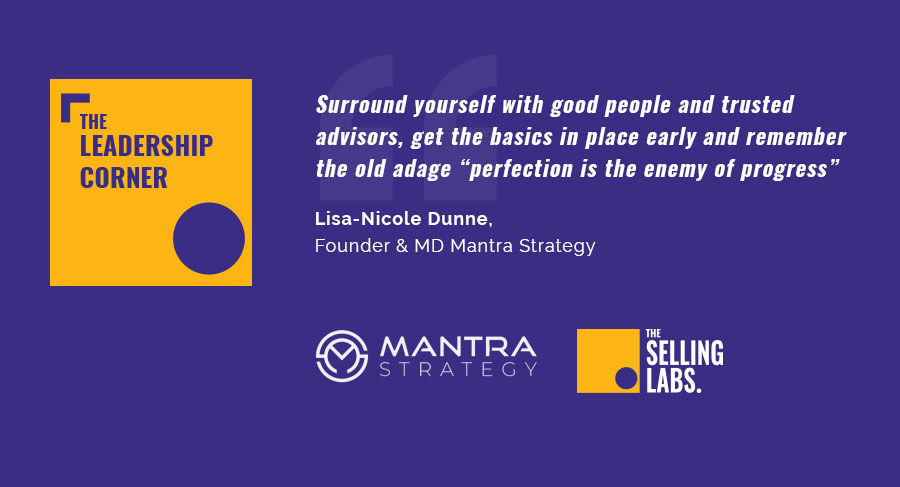 2. There are too few female CEOs in Ireland today. How have you managed to make a success of your working life?
Giving myself permission to work to the rhythm and demands of family life has been a big factor in making things work. I am proud that I've not been afraid to ask for that as I progressed in my career. As a female leader and with a young family it's important to develop a thick skin as people will always have an opinion about how you spend your time and balance your personal and professional lives. The reality for me is that I can flourish when I can lose myself in my work and make it work around my family to give me that freedom to focus. Both are so important to me, they need to work around each other, I know myself well enough to make it work.
At the beginning of my career I followed my passion and I stuck to what I was good at and what I knew was right for me. I worked hard at dialling it up and down as the demands required it of me. I became a CEO whilst my partner had more professional flexibility, and I was able to be at home when my children needed me more. I have a great partnership with my husband who is also self-employed and who allowed me the freedom to focus on my career at key times.
In essence female leaders need to know what is right for them and build the right supports around that to free them up.
3. Tell us about Mantra.
Mantra Strategy is a 1 year old purpose-led strategy hub that helps businesses large and small, leaders, charities and social enterprises to make the greatest impact they can from the resources they have. We put belief and purpose at the core of strategy and then help that emanate through brand, teams, partnerships to get the most engagement possible.
4.Describe a typical day in your working life
A mixture of production meetings planning out our core project work, delivering facilitated ideation sessions for products, campaigns, funding strategies or new service development or Justice Equality Diversity and Inclusion programmes, facilitated strategy sessions or it could be desk researching and analysis of the best in class out there or industry trends.
I am an extrovert by nature so I always need some quality 'sounding board' time; time to ruminate with the Mantra community. We believe this is what gives us our edge as a boutique consultancy: we commit time, we bring the right heads together around the table and we thrash things out before landing on a 'north star' recommendation. My team gives me the nickname of Mrs Spreadsheet as I spend a lot of my time planning (spreadsheet of choice is Asana) and of course like everyone I spend a lot of my time on the phone or Zoom.
For the first 15 months at Mantra I hadn't even met my own 'Virtual Assistant', but now we are doing in-person sessions which is great.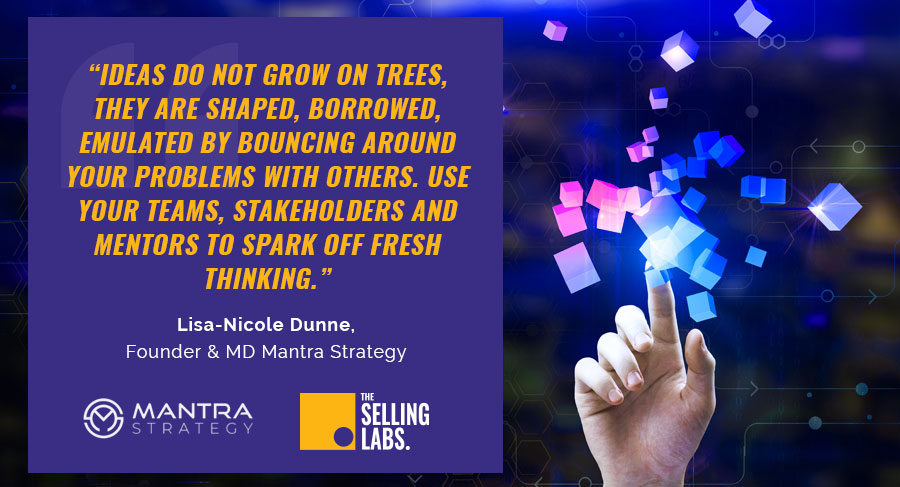 5. How would you describe your leadership style?
Open, direct and an encouraging coaching style. I trust easily and empower lots. Partly by nature, partly by necessity in a new start up. But I believe strongly in collaboration and enablement. I would say I am fairly dynamic, I am pathologically honest and communicate overtly, possibly too much, but I know teams like being honestly kept informed of all major changes.
6. What advice would you have for Founders launching a new business today?
Surround yourself with good people and trusted advisors
Get the basics in place early – think through your strategy before you jump out of the traps.
Remember the old adage "perfection is the enemy of progress".
Consider what value you can add to your customers and audiences, and become vocal on issues that matter to them.
Let your own personal values and purpose shine through when you engage on panels, podcasts, industry events, PR or social forums.
Listen to your customers and stay close to the ground.
Spend time immersing yourself in your data and your clients'. Know your numbers, and be guided by them, as well as international research and trends on what others are doing.
Ideas do not grow on trees, they are shaped, borrowed, emulated by bouncing around your problems with others. Use your teams, stakeholders and mentors to spark off fresh thinking.
Think relationships over transactions.
Know your core purpose and key sales pointers for each audience so that you don't miss opportunities when in front of decision makers.
Before you launch into social media, know what is important to you, what you need to say and pepper this throughout your strategy whether you're engaging in multi-channel campaigns or social or one-to-one 'fishing' for your perfect client.
And finally schedule strategy time. (Well I would say that!)
Buckle up, it is an exciting ride!
7. Finally can you share with us the great leaders have you worked with during your career? Any sponsors or mentors of note?
I was so lucky to have worked with and be mentored and championed by so many great leaders over the years: Ronan Harris, Sr Stan(Sr. Stanislaus Kennedy), Joyce Loughnan, Celine Fitzgerald, Michael Nugent, Kyla O'Kelly, Paul Connolly, Charley Stoney, Helen Conlan, Joe Harrington, and of course my long term mentor Colin Culliton (still providing vital advice regularly).
Meaningful Strategy for Sales
Here at The Selling Labs we understand the value of strategy for sales and thank Lisa for her insights into the importance of strategy and sales consultancy for your business. If you enjoyed this post make sure you subscribe to our newsletter below so you don't miss out on future Leadership Corner interviews. If you'd like to get involved as an interviewee, or need help increasing your sales, then get in touch today.
Don't Miss Out
On Expert Sales Tips
Get regular updates delivered straight to your inbox with expert sales tips for tech & SaaS companies. Enter your email below and start to increase your sales now.