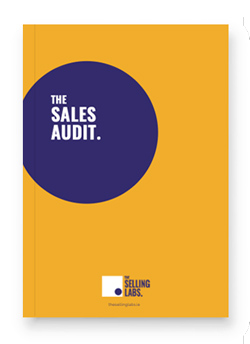 The Selling Labs Audit is a series of questions to help you get an instant analysis of the effectiveness of your sales organisation.
The Audit will enable you to focus on the areas of your sales strategy that need attention and those that you need to sustain. Add up the marks when you've finished and see how you've scored. We can then advise you on next steps.
Spend ten minutes now and take an important step forward in increasing your sales revenue.
Due to high demand, the Audit will be available for a limited period only. To ensure you avail of the opportunity make sure you submit your request while the trading window is open.
"The Selling Labs provides a completely down to earth approach to complex problems. Throughout the process I was offered suggestions to resolve tricky issues and the options were laid out clearly and logically that took away the fear and emotion."
"The Selling Labs has a unique ability to see the long term strategy for a client and anticipate headwinds and threats as well as thinking more tactically in the short term. Natalie in particular adds value with her natural ability to cut through complexity and see things simply as well as her talent for dealing with people directly and authentically."
"Natalie's extensive sales leadership at Google and her previous experience in the advertising industry was extremely useful, providing valuable perspective to the work we were doing to scale Food Choice At Work."
Natalie has a cool, commercial head and oodles of wisdom. Her expansive knowledge of life, business and the corporate world make her a phenomenal and strategic resource for the SME business and start up community. Natalie is on the pulse of what we need and what is best for our business.